Rimbit: Is the first Digital Currency to achieve 100% Distribution in 300 days from Inception!
Rimbit has been built and distrubuted in such a way that it is in the hands of ordinary people within 300 days. There is no mining and there is no need for expensive hardware. All you need is a PC, Laptop or even a Mobile Phone to enjoy the benefits of Rimbit.
Another fantastic feature is that you gain Interest on your savings per annum, so you can save Rimbit and make additional profits on top of the rising exchange value.
We have also created websites like RimbitOnline.com, where you can buy and sell Rimbit from other ordinary people, easily and with the security of Escrow.
Features:
Needs no special equipment - just your PC, Mac or Mobile Device to use it
Gain interest per annum
Very simple to use
Fast confirmation times (fastest coin ever made)
Easy to purchase
All Rimbit released in 300 days. No more first run are available after 300 days.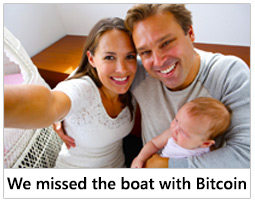 We first heard about Bitcoin in early 2013 and didnt think much of it, except as a geeky fad. When it started to gain media attention and prices started climbing past the $50 mark, I knew that I had missed the boat with Bitcoin!
Always looking for the next great idea, I started looking at crowdfunding campaigns and couldnt believe my luck when I saw the next big thing, which is essentially, Bitcoin but improved. I only needed my computer to instal the wallet and a purchase of the crowdfunding perks and suddenly, I have landed on the boat and its a smooth ride.
Dan, Chloe and Son - Rimbit Entrepreneurs!